Green Day Landscaping & Lawn Care, Pace, Milton, Pensacola Florida area. landscapes, softscapes, haradscapes, lawn maintenance and landscape designs.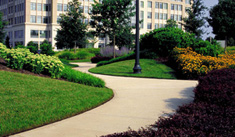 Proud members of:


Green Day Landscaping and Lawn Care Specialists
serving the Pace, Milton and Pensacola Florida area.
Commercial - Industrial Landscape Design
& Lawn Care Services
Neat. Professional. Green. That's what every customer, tenant or facility user wants to see when they come to your location. Green Day Commercial Lawn Care Services ensure a well-kept landscape makes the outstanding first impression you want to provide.
Green Day Welcomes Commercial Customers, including:
Homeowners associations (HOA) Facility Facility managers
Property managers
Our commercial lawn care and industrial landscape service customers range from banks and fast food restaurants, to office complexes and schools, to owners of multiple residential rental properties. Whatever your property, our purpose is to provide you with a customized commercial landscape care program to keep your grounds healthy and welcoming.
Our local lawn care experts leverage their knowledge of your specific area and environment to create a commercial lawn care program tailored to your needs. Let Green Day Landscaping & Lawn Care be your Commercial Lawn Care Company of choice.
Commercial Landscape Services
Commercial Landscape Design & Installation:
» Landscape Consultations
» Landscape Renovations & Makeovers
» Landscape Additions
» New Orleans Style Courtyards
» Sod & turf Removal & Installation
» Low Voltage Landscape Lighting
» Hardscapes
° Patios & Walkways
° Entrance Ways
° Retention Walls
» Mulching, Pine Straw & Natural Stone

Grounds Maintenance Services:
» Commercial Lawncare
° Mowing, Edging & Blowing
° Parking Lot Blowing
° Irrigation Maintenance & Repair
» Landscaping Maintenance
° Shrub & Tree Trimming
° Weed Control
° Mulching & Pine Straw
° Seasonal Flower Changeouts

Specialty Landscape Services:
» Cleanups & Debris Removal
° Including Storm Clean-ups
» Drainage Installation & Drainage Issues
» Water Features, Fountains & Ponds
» Pavers, Natural Stone & Gravel Walkways,
Driveways & Patios
Green Day is licensed & insured, we provide professional quality work at a reasonable price. Please give us a call to discuss your landscape or lawn service needs at 850-525-9050.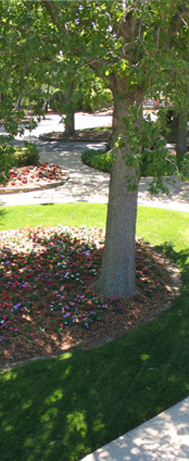 Lawn Care Tip

A higher cut – generally trimming the top third of the plant – will shade the roots and encourage a deeper root system.